Lev Sokolov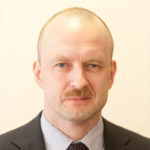 PhD in Economics, professor. Economical education – Saint-Petersburg State University f Economics, KSTU. Psychological education – Yaroslavl State University, Miami University. Has a number of professional certificates in personnel assessment, psychological consulting, conflictology and moderation.
Experienced in top managerial positions in industry, telecom, educational system. Has over 20 years' experience in personnel management, assessment and development, research, corporate culture creation and internal communications.
Has experience in teaching and moderating trainings in USA and UK. Developer and moderator of training and educational programs in different areas, including:
leadership and management skills elaboration;
changes management, team development;
client orientation, first-class service;
effective communication;
development system foundation and education, business trainers and T&D managers preparation.